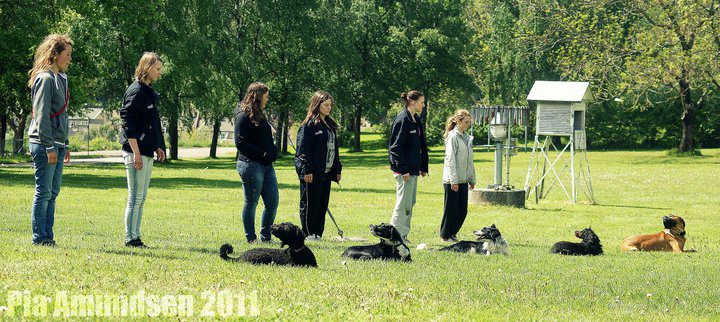 On the bronzemark course we will work to train your dog without visible treat or toy and we will increase the interference and work to increase the concentration of the dog. We learn even better about the timing of the reward and learn how to cooperate even better with your dog.
Bronzemark course is suitable for those who want to do some training with their family dog and those ones who want to engage in a form of dogsport. Bronzemark course is suitable for all dogs, who completed the everyday obedience course.
The instructors on the bronze marked course competing actively with their dogs and have a lot of knowledge about dog training which they like to share with their participants on the course. During the course we are working with these exercise:
-sit and stay
-lay and stay
-call in
-free walk by foot
-rope guiding
-stand during march (Means that you should be able to give the command stand still/stå to the dog as you walk and the dog should now stop and stand still even when you continue on without stopping yourself.)
-lay from held (This is when you already has given the command stand during march and you want the dog to lie down.)
The last course evening will be a bronzemark test. In the bronzemark test evening we will go through the bronzemark exercises with our dogs before a judge. The bronzemark course will be 2 times a week and there will be 10 course evenings.
The information in this article is indicative and the courses may have small changes in each departments. You can read more about the course in the departments website or contact with us 22076776 telefon number if you have any questions.
Find bronzemark courses in our departments